Keyway, Keyseat, Keyseating & Special Broaching
We broach thousands of internal keyways each week. We can economically broach up to a 1.25" keyway with our production pull broaches.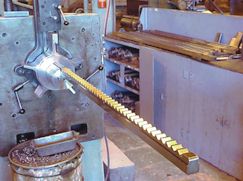 Currently, we have about a thousand bore and keyway combinations, both inch and metric sizes that can be broached. Our largest keyway is 2.5" (63.5mm) wide which is cut on our KEYSEATER. Our largest broached keyway width is 1.25" wide with a 5.5" bore. We also cut keyways in blind hole conditions, including blind keyways with a groove relief at the end of the keyway (most common and preferred process) and by exiting out of the keyway with a radius.

Refer to Charts for a detailed listing of commonly broached bore/keyway combinations .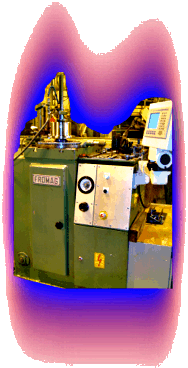 Try our Keyway Depth Calculator. It will figure out the distance from the bottom of the bore to the top of the keyway. Bookmark this handy utility!

Please remember that we are not limited to this chart. With our KEYSEATER, we can do almost any bore and keyway combinations that you may need up to 2.5" (63.5mm) wide and KEYSEATING through a 16" long part. We are able to cut shallow keyways, slightly deeper keyways, special widths, and keyways with a radius on the corners to prevent stress cracks.


If you need a keyway, We can cut it!
Most standard inch bore keyway combinations can be center-lined over a feature such as a sprocket tooth. Please mark "Non-standard keyway" when ordering a non-standard keyway.



We also do special broaching such as but not limited to: square, hex, and double "D" holes. Please contact us for your special needs.
LaPointe HP75 horizontal broach. 37 ton, 72" travel

LaPointe 2L horizontal broach. 7 1/2 ton, 48" travel

Fromag keyseater 2 1/2" wide keyway, 16" long work piece